Katarína Kalmanová – Mixed media and abstract artist, Fine Art teacher and lecturer;
born in Lučenec, Slovakia, based in Bratislava. She graduated from the Faculty of Education in Fine Arts, Univerzita Konštantína Filozofa in Nitra, Slovakia (1994-1999), later followed by studies at Terra Therapeutica Institute in Art Therapy. (2017-2019). Since 2011 she has been participating in collective and solo art shows or Art Fairs in Europe and USA ( E.g.Italy, Lithuania, Czech and Slovak Republic).  Her paintings can be found in many private collections worldwide.
Nature is her often source of inspiration, as the parallel of her inner life. "I paint intuitively, the whole thing is more about enjoying the process than the result itself. The colour is the prior mean of expression in my works. I love to experiment with layers, combine more techniques in each piece of art and play. Painting is the opportunity to look inside, reconnect with my inner-self. It is my adventure and meditation. I use mainly acrylic and mixed media technique which allow me to explore and play alongside and enjoy this amazing intuitive process."
Nowadays Katarína lives with her family in Bratislava and she is creating, teaching and lecturing in her studio in Old City of Bratislava. She loves to inspire, guide and help oters to discover and unleash their unique creative voice.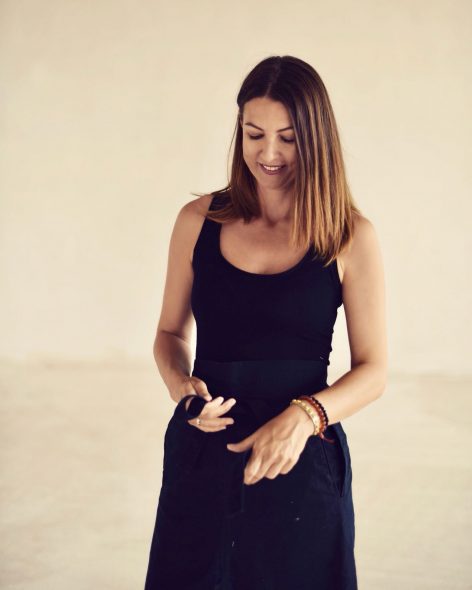 AWARDS
Best of Show & 1st Place Acrylic, Abstract Art Competition, Focus Point Shape International Online Art Gallery, USA, 2014
Honorable Mention Award: Color, Line& Form Art Contest; Arteziana, Toronto, 2014
Special Merit Award: Abstracts 2014; Light, Space& Time, Florida, 2014
Special Recognition Award: Abstracts 2014; Light, Space& Time, Florida, 2014
Special Merit Award: Abstracts 2015; Light, Space& Time, Florida, 2015
Honorable mention Award "Abstract" Art Exhibition 2018, Art Room Gallery, 2018
PUBLICATIONS
ANTHOLOGY OF VISUAL ARTS & CRAFTS: Arteziana Publishing, Toronto 2014
ARTASCENT, Art & Literature Journal , October 2014
Abstracts Event Catalogue, Florida, October 2014
PRESS
REPORTÁŽ RTVS: Slovensko v obrazoch/7.3.2020/
Rozhovor pre Linus Gallery, Los Angeles: Artist Interview Series – Katarína Kalmanová
FEMIMITY Magazín/17.12.2021
ROBENE.SK
ARTIST DIRECTORIES
CIRCLE ARTS / Foundation for the Artists
Art Mums Europe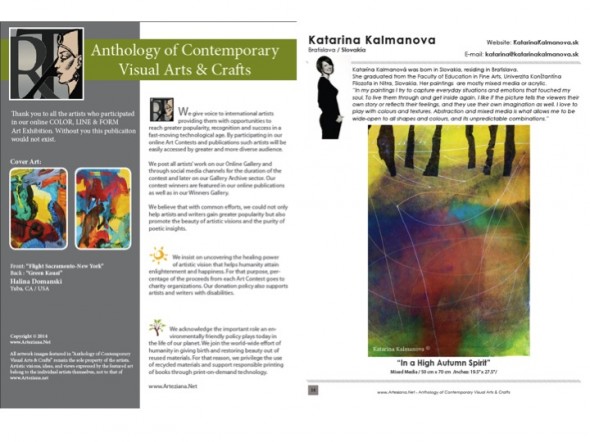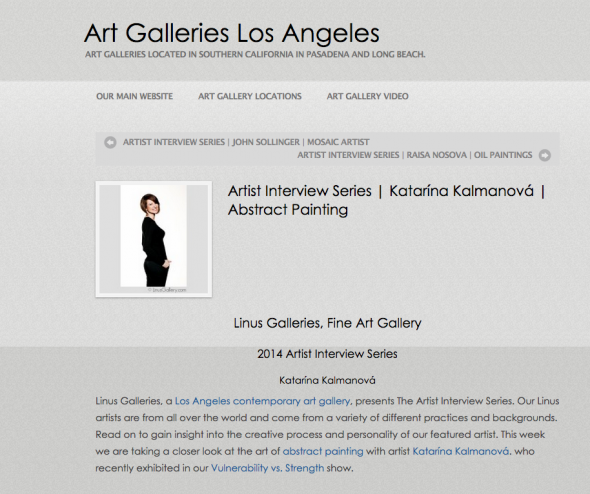 Follow me on INSTAGRAM!